Stamina: How To Outlast The Party
---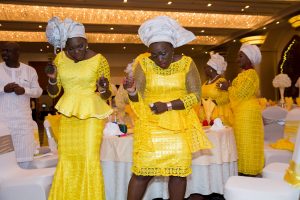 [from the Ope Idowu Gallery]
You might get by with little motion doing portraits in the cozy confines of a studio. Make no mistakes, photographing an event is a different kind of beast altogether. It will stress you in more ways than one – and moving about is just one aspect.
Events photographing will push your limits – mental and physical. And, to keep from being dragged off the set foot-first, you're going to need a bit of stamina; staying power. And, by 'you', I mean you and the gear. Or, of what use is the photographer's presence if the camera battery is out of juice?
It may not be initially obvious, but one of the most important people at any party is the DJ (whether on an actual turntable or armed with a loaded mp3 player). (S)He essentially decides when the party begins and ends. You may argue at this point that your photography engagement is defined and time-bound. I'm aware of that reality. Still, how often have you missed the sight of the decade by rushing to pack up the gear?
Imagine that you've been three hours at a party. Everyone's had enough to eat, drink, dance to and talk about. It's obvious the party has peaked and everyone's just waiting for the perfect moment to bail. Then, all of a sudden, some souls saunter in, help themselves to a few drinks and try to out-dance Michael Jackson. You're going to feel like you've swallowed an eggshell if you miss that. Not only must you be around, you've got to be as alive and alert as you've ever been. Your shots can't begin to lose taste as the party wears on. That takes some doing.
It helps to know how long the event is billed to last before even setting out. That way, with a bit of allowance, you can tell how much of a demand it'll put on you and the gear. I personally like to charge all my batteries immediately after an event so I can be quick off my feet when next my services are needed. But, more than just charging equipment, you've got to recharge yourself. Generally keep your fitness above board and always eat (and sleep) well in the days leading to an event.
If you find yourself doing lots of long shoots, you may want to invest in an extended battery/power grip. Saves you the hassle of flipping out camera batteries at intervals (at least, it extends the intervals). You may also want to consider high-performance batteries for your flash sets. I personally favour the Panasonic Eneloop series for their quick cycle time and ability to hold charge. Be sure to pack the right amount of gear (with sufficient allowance) to match the planned duration of whatever event you're to cover. The last thing you want is to run out of space on your memory cards or charge on the batteries. 😉
Quick Tip: Be careful not to mix up different sets of rechargeable batteries. Otherwise, it'll be hard to know which ones to replace when performance begins to drop.
Feel free to post your thoughts or ask questions about this picture.
---
---