The Genesis: Let There Be Light
---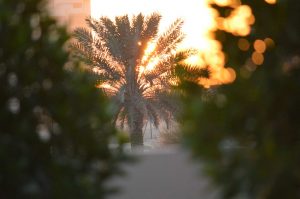 "Let there be light" – and the strobes came on….
Hi and welcome to the 5-12 iMagInG Blog.
I had initially decided to say as little as possible about the images on this site. (You know how a picture already says a thousand words?) Plus, the foundational idea was always to create images that told their own stories and didn't expressly require a caption.
The images in the different galleries tell a 'polished' story that I now fear is far from complete. So, on the blog, I hope to bring you a lot of behind-the-scenes stories; a real insight into the blood and sweat that often go into making the final images you see (and love 😀 ).
More importantly, I hope to share a few quick tips (technical and non-technical 'HowTo's) on how I tie the science and art of photography together.
About this picture,….. I was taking a random stroll when i noticed how bravely a nearby palm tree had tried to shield the sun's rays. I knew (a bit of a guess at the time) the resulting dispersion would make a compelling picture. Seems the palm tree proved itself eventually.
Quick Tip: It's significantly easier to pick out specific targets in 'single-point focus' mode!
Feel free to post your thoughts or ask questions about this picture.
---
---